Senco DuraSpin
DS300-S4
DuraSpin Screws
Corded DuraSpins
Cordless DuraSpins

Screw Bits
---
DS300-S4 - DuraSpin Screw System by Senco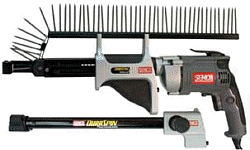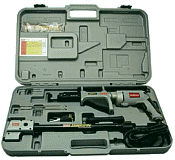 Drywall - Sheathing - Underlayment
Drives 1-5/8" to 3" screws
4000 RPM motor ideal for underlayment
Includes flooring extension

No longer available

The Senco DuraSpin DS300-S4 comes complete with the DuraSpin collated screw feed system mounted on the rugged 4000 RPM Senco SG4000 screwdriver, a rugged carrying case, two spare bits and an 18" flooring extension which extends the screw system to approx. 38". Capable of driving most SENCO® DuraSpin™ screws from 1-5/8" - 3" in length, this tool is ideal for high-speed wood screw applications like floor sheathing. The SENCO DuraSpin™ DS300-S4 collated screw system comes conveniently assembled to the rugged SG4000 SENCO screwdriver. The SG4000 screw shooter can be used independently to drive bulk screws. The SG4000 VSR screw shooter features a 10' cord, trigger lock, reverse and 0-4000 RPM variable speed motor.

• Heavy Duty Variable Speed / Reversing SENCO Screwgun
• Extra-long 10 foot cord
• New Non-Slip Nosepiece
• Patented SENCO DuraSpin™ feed system drives screws quickly and efficiently without jams or misfeeds.
• Ergonomic design – May be used with a one-handed or two-handed grip. Cushioned second hand grip provides added comfort and reduced exertion.
• Flooring extension included – Allows screws to be driven efficiently from a comfortable standing position.
• Easy Depth-of-Drive Adjustment – Just turn the thumb screw to regulate the precise amount of countersink.
• Quick Release – Feed system snaps off to give easy bit access.
• Super-Tough Drive Bits – Outlast the competition.
• Modular design – Snaps together with or without flooring extension, quickly and easily, with no tools.

SENCO's Full One-Year Warranty.

TOOL SPECIFICATIONS
RPM: 4000 rev/min
Torque Delivered: 95 in-lbs
Height: 9.25"
Length: 20.5", 38" with extension
Width: 2.75"
Weight: 5.1 lb
Fastener Capacity: 50 screws (per strip)
Screw Lengths: 1-5/8" - 3"
Don't forget these related items
Add to
Cart
Description
Price
EA0127
SCREW BIT-SQUARE #2 (2 PACK) DS300, DS300-S2, DS300-S4, DS300-D2, DS300-D4
8.95
EA0128
SCREW BIT-PHILLIPS #2 (2 PACK) DS300, DS300-S2, DS300-S4, DS300-D2, DS300-D4
8.95
---
END OF PAGE